---
---
Robotics Systems Integrators
Industrial Robots are the most flexible general-purpose tools available and properly programmed can be instrumental to the efficiency and bottom line of any manufacturing operation. Robots can handle different parts with minimal programming time and can pick, place and sort at high speed, type of operations, with the advantage that they can operate 24/7 with minimal maintenance.
Programmable Control Systems Ltd. is an experienced Industrial Robotic Systems Integrator. Robotic pick and place solutions are ideal for manufacturing, consumer, and food industries. PCS provides Robotic Systems Solutions to Tier 1 automotive suppliers of seating and interior components across North America.
Applications
Testing and Inspection Systems
Material Handling
Order Picking and Packaging
Palletizing
Part Transfer
Pick and Place
Grinding and Polishing
Industries
Automotive
Food & Beverage
Manufacturing
Logistics
---
---
KUKA Robots

Programmable Control Systems Ltd. is a KUKA Robots Integrator partner. Our customers know that a PCS designed Robotic System will run with zero downtime for many years, while providing opportunities for process improvement, capacity enhancement and cost reduction.
---
PCS Robotic Systems - Videos



---
PCS Robotic Systems
Image Gallery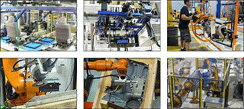 ---
---
Software, Control Design and Equipment for Industrial Automation
Programmable Control Systems Ltd. 16-1550 Yorkton Crt, Burlington, Ontario L7P 5B7 Canada Phone: 905.681.1096 Fax: 905.681.6323