---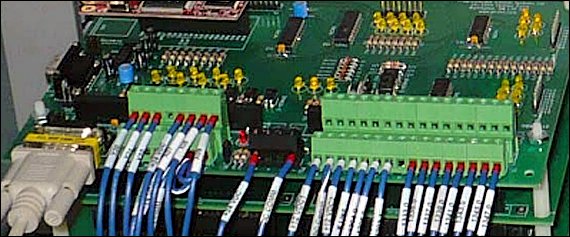 Relay Matrix Board (Magic Box)
Constant reductions in innovation cycles in the automotive industry coupled with the requirement to standardize while maintaining high quality requirements highlight the need for smart, flexible and adaptable solutions to allow the user to introduce new parameters and specifications without wiring changes and zero downtime.
Features
With 8 Inputs, 8 Outputs and 64 Form A relay contacts the RMB can connect any or all of the Output pins to any or all of the Input Pins. Each of these connection schemes is stored in flash memory as a pattern and can be selected using digital I/O or ASCII commands via RS-232.
Connection with a PLC is via digital I/O.
All I/O is optically isolated and can be configured as either sinking or sourcing.
Select a pattern and trigger it via outputs on a PLC.
The selected pattern can be read by the PLC via outputs from the RMB.
Benefits
If you have ever had to connect two pieces of equipment, but no access to the exact wire designation until the time to start up, this product is for you.
If you need to continually rewire a piece of equipment because of annual customer design changes, this product is for you.
---
Software, Control Design and Equipment for Industrial Automation
Programmable Control Systems Ltd. 16-1550 Yorkton Crt, Burlington, Ontario L7P 5B7 Canada Phone: 905.681.1096 Fax: 905.681.6323